What is the Softball Batter Up program?
Softball Australia's national participation program, Softball Batter Up (SBU) is designed to be fun, flexible and engaging for children from kindergarten age to Year 6, focusing on fun activities while learning basic throwing, catching and striking skills.
You don't need to be an experienced softballer or coach to deliver a successful program, which can be adapted for all ages and abilities using the Game Sense and CHANGE IT approach.
Softball Batter Up activities align with the national health and physical education curriculum and are written with coaches and teachers in mind. Detailed information is provided on each activity's learning intention, band levels, and skill focus, together with questions to encourage participant engagement.
With more than 60 different softball activities and games on offer, you can design your own softball sessions, or even design your entire program allowing for repetition over time to maximise learning and development opportunities.
My child has never played before. Will they be able to keep up with the other children?
Yes.  The SBU program has been established as an introductory program catering for children from kindergarten age to Year 6 catering for all ages and abilities. The trained SBU coach can modify activities suitable for ages and abilities to ensure your child has a fun and engaging softball experience.
How much does it cost?
Prices will vary depending on the location, length of the program and equipment inclusions.  Each program will have it's own website page containing all information about times, dates, venue and cost.
The participant packs currently included in costs contain:
1 x Branded SBU back pack
1 x Foam Bat
1 x Branded SBU foam ball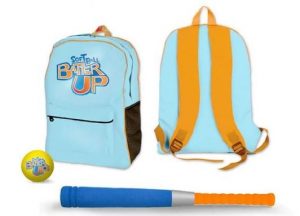 How do I register my child?
Parents need to complete the SBU registration form for their child. Your SBU Host Coordinator will automatically be notified of your child's registration.
Where does my child go after they have completed the Softball Batter Up Program?
Each Club or Association will have teams at a suitable level that your child can join in regular competition. Ask your SBU host provider about a Club or Association near you.
What can I do as a parent to become involved?
Parents are one of the key components to a successful club or association program.  Parents do not need to be softball experts.  The participant registration form contains a section where parents can advise of their willingness to assist.  The Host can then allocate tasks in advance so you are aware of your responsibilities for the session.
Games to play at home
There are a number of games and activities you can play at home with your child.