Resources
To help promote and manage your Association or Club SBU programs can be found here.
Can't find a resource your after?   
Email Softball Australia and ask us for what you need before creating it yourself.  We have many additional resources that can help.
To email Softball Australia
These assets have been designed by Softball Australia and are available to download for Clubs and Associations for free.
Through the Softball Batter Up Program you can:
Create an SBU Program Webpage with information and registration online
Create a great value Starter Pack for your participants
Promote your program with flyers and templates for social media posts using the downloadable resources here
Promote your program to local media or new communities using the downloadable templates below
Coaching Education 
You  can encourage new parents to get involved by teaching them about Softball Batter Up through our online courses in the "My-Courses" section of this website.
Encouraging new people to learn about coaching could give them the confidence to volunteer for a coaching role you need to fill.
For "My-Courses" section
Hosting a Program   
As a Host Provider, your Club or Association will be listed on this website, together with contact details for parents wanting more information about your program.
To get started 
Downloads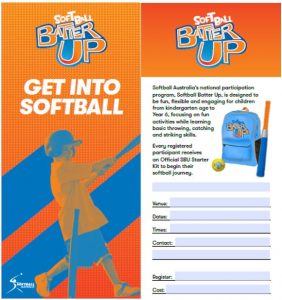 Use this editable SBU Program Flyer to promote your program with a professional, sleek look in just seconds.
Download, edit, save and print or save as a PDF and email out to potential players or parents.
Download this guide to managing and coaching as an SBU coach.