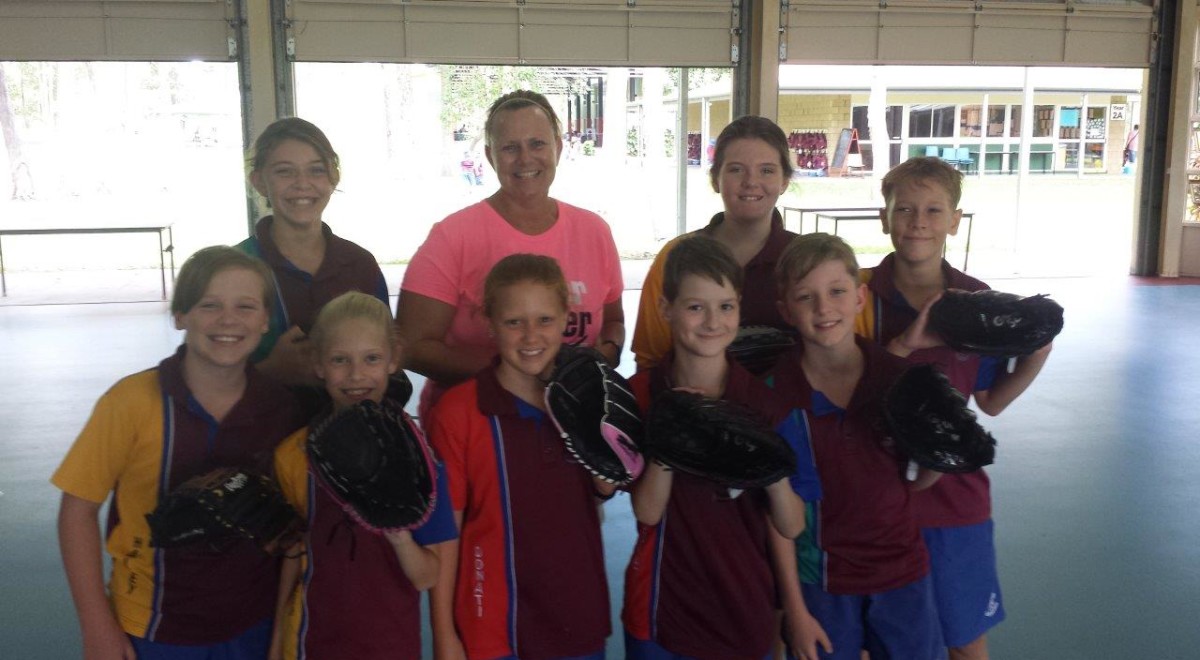 Tanya Harding with some potential softball stars of the future, thanks to the Sporting Schools program.
Softball is climbing up the rankings within the Sporting Schools program, with help from elite coaches such as Tanya Harding.
Latest figures show that softball is now ranked in the top 10 sports Australia-wide in terms of student participation and number of programs conducted (see table below), rising from 15th since June 2015.
Helping the cause is Harding, among the greatest players in Australian softball history, who has been a crucial part of every Australia Olympic softball team, winning medals in all four appearances.
Sporting Schools, a $100 million federal government initiative, is Australia's largest sport-based participation program. It is available to all 850,000 students from K – 6 from private and public institutions.
More than 5,600 schools have registered to be a part of this initiative, which is committed to helping sport, schools and communities work together to grow sporting activity in schools.
Harding recently completed an eight-week program at St Michael's College in Caboolture, Queensland. With about 120 students a day taking part, she was able to help the youngsters from Years 3-6 with their skills and educate teachers to help develop those skills in future.
"The older kids had quite a bit of talent, and we were able to work on specific aspects of hitting and pitching," Harding said. "With the younger ones, we worked mainly on the basics — throwing and catching.
"The teachers were familiar with the game, so we were able to structure a program that taught the basics and increased the skill levels."
The benefits are both immediate and longer term. Many of the kids in Harding's program tried out for district teams, and some have joined teams in the Caboolture Softball Association, where they will hopefully play for many years.
Harding, who is also the Queensland Under-19 coach based in Brisbane, is looking forward to running more Sporting Schools programs. "It's an awesome way for schools to utilise athletes," she said. "The kids learn so much, and the teachers benefit by having an athlete show them various training drills."
Harding encourages other top-level softball players to get involved in Sporting Schools. "Athletes at the elite level who are looking for work just need to get accredited and endorsed, and they can get into it. They get paid, and they are helping the sport by getting into schools. For the kids, the athletes are the face of softball. It creates familiarity, so that they might see a player on a poster and remember, 'Hey, that's the player who came to my school!'"
Sporting Schools aims to help children foster a lifelong interest in sport, gain a healthier mind and body, all while being active, engaged and having fun.
Funding is available to schools for equipment, teacher development, and to link up with quality coaches locally, and to deliver the sporting program developed by the partners of Sporting Schools – more than 30 of Australia's leading national sporting organisations.
In partnership with more than 30 National Sporting Organisations, Sporting Schools will help to coordinate sporting organisations, coaches and teachers to deliver sport before, during and after school hours.
The Sporting Schools Mission
Support sporting organisations to deliver great programs that are suitable for children
Provide schools with opportunities to get their students excited about sports through quality and diverse programs
Provide children with positive sporting experiences in the best possible way – by having a go
Support schools and coaches through offering online coaching resources and information to help them run programs
Sporting Schools aims to:
Connect 860,000 children with NSO endorsed sporting opportunities
Increase children's participation in sport
Nurture children's lifelong love of sport
Sporting Schools by the numbers
Participation
| | | |
| --- | --- | --- |
| 1   Tennis | 5   Soccer | 9   Hockey |
| 2   Athletics | 6   Basketball | 10  SOFTBALL |
| 3   Swimming | 7   Cricket | 11   AFL |
| 4   Gymnastics | 8   Netball | 12   Golf |
School programs
| | | |
| --- | --- | --- |
| 1   Tennis | 5   Soccer | 9    SOFTBALL |
| 2   Athletics | 6   Basketball | 10  Hockey |
| 3   Swimming | 7   Cricket | 11   AFL |
| 4   Gymnastics | 8   Netball | 12   Golf |