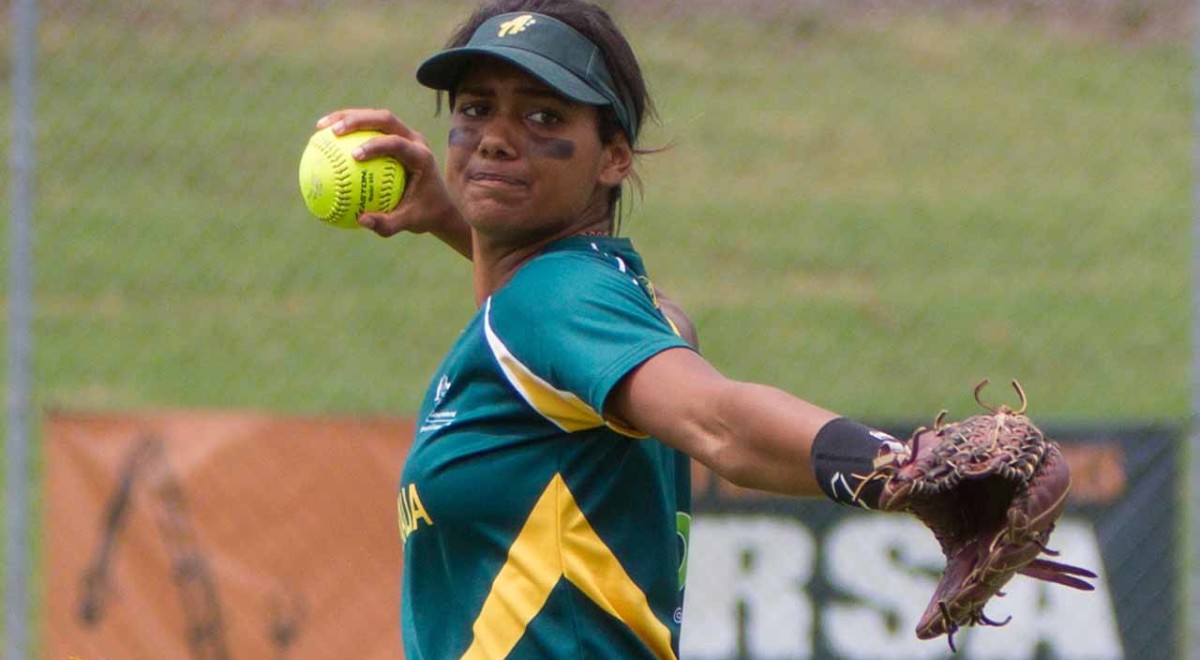 When Janice Blackman answered her phone recently, she had no idea the voice on the other end was about to change her life.
The caller was Aussie Spirit head coach Fabian Barlow, and his message was straight to the point: Blackman had been chosen to represent Australia at the 2016 Women's World Softball Championship in Canada.
It was fantastic news for Blackman, although possibly not so great for her brother, who happened to be standing nearby when she took that phone call. "I tend to get a bit over-excited, and this was one of those times," Blackman says. "I started hitting my brother over and over while I was on the phone. I was jumping up and down and slapping him at the same time."
Blackman was called into the squad after fellow outfielder Leigh Godfrey had to withdraw with a shoulder injury.
According to Barlow, Blackman was the ideal replacement for Godfrey. "Janice came very close and was unlucky to miss selection in the original 17," he said. "It was a logical choice to make her the replacement for Leigh.
"I think Janice is the fastest player in the country. If she puts the ball in play she will put pressure on the opposition defence. She has lots of tools, and if she plays to her ability she will be able to really help the team."
For Blackman, 20, it will be her first taste of softball at World Championship level but not her first time overseas, having played in the Japan Cup last year.
It has been a whirlwind ride for a player who first picked up a softball in the Queensland town of Mt Isa at the age of 8, following in her mother's footsteps.
Blackman remembers when she first began playing. "I didn't really have a choice," she says with a laugh. "My mum played and I'd go along to watch. Then I began sitting on the bench. That's where the love began."
Her career began to take off after she moved to Brisbane with her family at age 15. Coaches turned her into a left-handed hitter to utilise her speed, and helped her eradicate some bad habits. But she remains grateful to people in Mt Isa for teaching her some life lessons.
"Moving to Brisbane improved me as a player, but I learned a lot in Mt Isa," Blackman says. "I'll always call Mt Isa home, no matter what. People up there, along with my mum, taught me right from wrong and how to use common sense. I can't stay away from the place."
Even with such a busy schedule in the next few months, Blackman is keeping an eye on the longer-term future. In the back of her mind is the possibility of being an Olympian if softball is reinstated as an Olympic sport.
"It definitely adds motivation. Not that I need much, because I just love playing the game. But to be able to play the sport you love at the Olympics, that would be unexplainable. There are no words to describe how that would feel."
As an indigenous player who grew up in an area that did not have all the advantages of larger cities, Blackman won't forget the people who helped her along the way, and plans to give back to the community. She already coaches junior teams at her Brisbane club, the Bears.  On her radar is to go back to Mt Isa and do whatever she can to help develop softball there.
"It has dropped off a bit," she says. "A lot of kids are playing other sports. I'd love to go back there and help other kids develop their skills. Indigenous or non-indigenous, it doesn't matter. If I can help, I will."
The hardest part might be finding time. A full-time student and part-time worker, Blackman is also an ambassador for Deadly Choices, an organisation that encourages indigenous people to make healthy choices for themselves and their families – to stop smoking, eat good food and get regular exercise.
Blackman's message to young people is simple: "Get off your phones, get outside and get active."