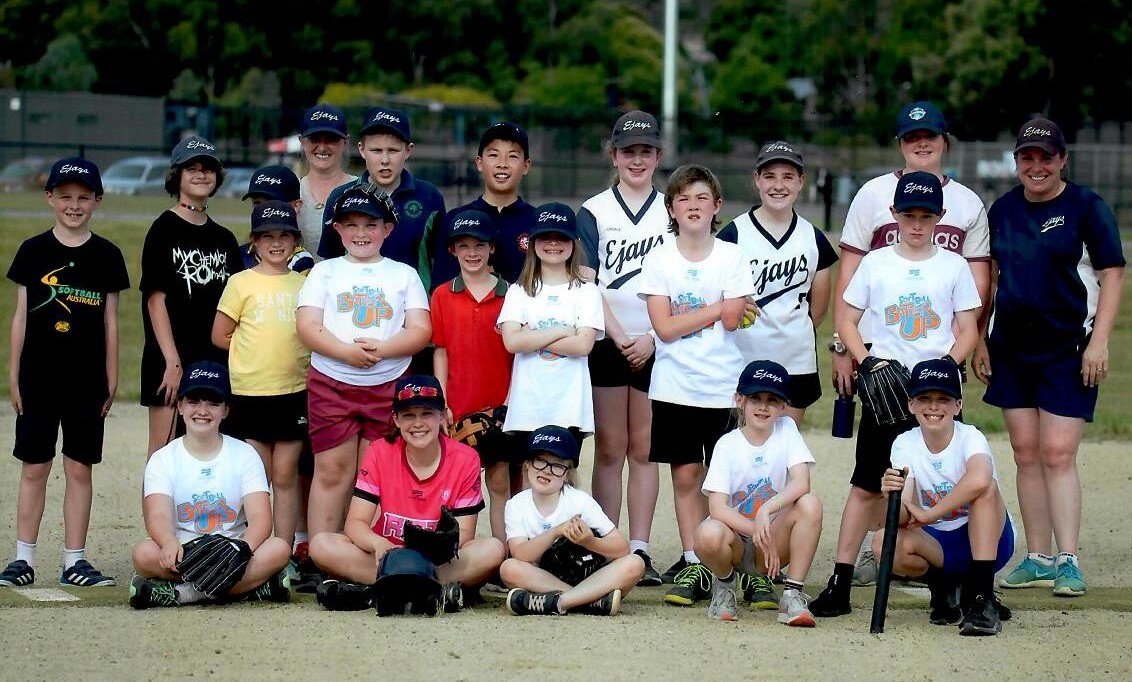 The Lilydale Ejays have made great strides in their Softball Batter Up (SBU) program in recent months going from launching their initiative under Covid restrictions to kicking into full gear earlier this year.
Trish Ross, one of the drivers behind the Club's SBU programs, recently spoke to Victorian Clubs and Associations during a webinar hosted by Sports Community webinar on how to successfully introduce Softball Batter Up and Fully Loaded T-Ball into your Club or Association.
New to the sport, both playing and administrating, Trish said seeing her own kids enjoy the SBU program kick-started with Ejays.
"I've only been playing softball myself for three years, so I'm relatively new to the softball world," said Ross.
"I've got three kids, my youngest is six and she's vision impaired, we went along and tried the Softball Batter Up program at Knox and had an absolute ball.
"I thought the program was absolutely fantastic to kids of all abilities and saw kids with different challenges all be included in the sport."
The Club originally planned to run both a Tee-Ball and SBU program, however given the challenges Covid presented in 2020, decided to focus on the single SBU initiative.
"After the that I really wanted to get involved in the program so as a Club we decided to focus our resources on doing the one program for ages 8-12 and went from there."
Prioritising organisation made the roll out of the program to the public a much simpler equation for the Ejays crew.
They were able to identify all of their local schools and slowly chipped away at contacting them directly, keeping the process simple.
"We found the key to being successful was just to be super organised, so thinking as a parent where I would go to find this information on these programs, and for us that was word of mouth, but also through schools and we put a lot of focus into that," added Ross.
"So I developed a brochure on the program to promote it, put together a list of all the local schools in our area and set myself some goals each week to contact them directly."
The plan of attack made their goals seem achievable and not overwhelming, important for many volunteers who have their own careers and family lives to manage along with Club responsibilities.
Ross said most schools will welcome Clubs reaching out directly with the SBU program ticking a lot of boxes in their own remit.
"The schools love that you're a not-for-profit and you're wanting to get kids active, having fun, out doing something new and building skills and confidence throughout.
"Any schools that I didn't hear back from I just followed up with a quick call asking if there's anymore information we could provide so we could say for certain every single school in our area knew what we had going on.
"Trying to get that word-of-mouth out there was the primary organiser role that I took on and we had other people at the Club assisting as well, which was amazing."
The Ejays took a collaborative approach to launching their SBU program while keeping in mind their relevant Club members strengths and connections.
"We had someone doing our Facebook marketing and promotion, someone wrote a piece and contacted the local newspaper, and then we had our brilliant coaches with a load of experience from programs they had run in the past and give us guidance in what we were organising.
"We organised a lot of Zoom chats that only went for 20 minutes, just saying what we had all done and bounce ideas off each other.
"Having a team work on the program just means you don't feel all of the pressure on our own and that's flowed through to the program being really successful."
The structured approach and execution paid dividends for the Ejays who kicked off their first program with 20 kids from the area.
When it came time for the on-diamond action to kick-off, the organisers behind the program made sure they were on hand to welcome new kids and parents to both the Club and the sport, an important step in allowing the coaches to focus purely on keeping the kids engaged.
"We were able to secure 20 participants which we were rapt with, that lead to myself and the organising group liaising with the parents and welcoming them while our coaching team stays on diamond with the kids," added Ross.
"So if we had a child arrive late, we'd take them over to the group and let the coach know they've arrived so they slot straight in and there's no interruption to the session.
"That made a massive difference to have the coaches purely focussed on the sessions rather than little interruptions with new parents and the like."
Setting a good foundation for first impressions began well before the new participants arrived at the diamond though, Ross says contacting registered parents early has proved fruitful.
"Every time we got an email from Softball Victoria saying someone new has registered, I'd send them a welcome email straight away with everything they need to know and how excited we are to have them come down.
"Opening that line of communication between he parent and the Club has been really successful."
The Ejays now look to the future after receiving overwhelmingly positive feedback on their junior programs, engaging and welcoming becoming the major contributing factors.
"The message we're getting back from parents is they've never been to a program where the kids have been so engaged, they're not getting bored or asking to leave. And I think that's the beauty of softball, it's such an inclusive sport, everyone gets a go at everything and it moves quite fast.
"It makes it easier for us to transition those kids into an under-12 team or something like that, so it's been successful."
Follow the Ejays Softball Club on Facebook to stay up to date with their programs.
More information on hosting your own Softball Batter Up program is available at softballbatterup.com.au.